Friends of Malaysia VISA Prepaid Card
Geared towards visitors to our dear country, this card opens the door to a host of benefits in hotels, dining, shopping and other tourist attractions around the nation. It's especially useful as you don't have to carry cash around in your travels. Join us and be a friend of Malaysia!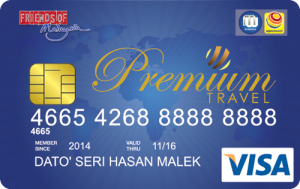 Premium Travel – Friends of Malaysia VISA Prepaid Card
The Premium Travel edition of the Friends of Malaysia card is exclusively sold at the Malaysia Premium Travel Fair. If you are a discerning traveller looking for nothing but the very best Malaysia has to offer, then this card is for you.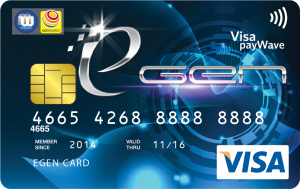 eGen VISA PayWave Prepaid Card
Specially designed for the vibrant young generation of online shoppers! Safer than a credit card, and protected by the Verified by Visa programme – now you can shop online with no worries.
MRCA VISA Prepaid Card
The MRCA VISA Prepaid Card is the result of a special partnership with the Malaysian Retail Chain Association. If you are an avid shopper with a fear of credit cards, then this card is the one for you! Get exclusive deals and discounts typically offered to credit card companies, without the fear of overspending – plus we've got exciting new features soon to come!
All MyWorld Rewards cardholders will be able to enjoy the following benefits:

Exclusive deals
F&B, Holidays, Shopping, Beauty & Spa – live your life the way you want it and get special deals from our affiliated merchants.

Hassle-free rewards
Just swipe and go – your savings will appear in your following month's statement. It's that simple!
Unlike credit cards, there are no limits to the amount of cash back received – the more you spend, the more you get back!

One card for everything
Never have to worry about whether or not you brought your membership cards with you – just bring your MyWorld Rewards prepaid card to shop
worry-free.

No bank account or income requirement
All we need is a copy of your identification card or passport. Perfect for tourists and expatriates, or if you prefer to keep your banking information to yourself.

Pay online safely and secured
Add another layer of security with the Verified by Visa program. Click here for more information.

Worldwide ATM cash withdrawal
Withdraw cash from any ATM worldwide that displays the VISA or VISA PLUS logo – indispensable for the true traveler.